M+M Take Atlanta: Ponce City Market
M+M+Team Take Atlanta: Ponce City Market
Ponce City Market is the new go to destination in Atlanta. It features high end shops, unique restaurants, and a skyline view of Atlanta that was to die for. This M+M was a little different because we brought the whole team along. What started as a meeting for group photos turned into a team exploration of Ponce.
With Maggie's full on addiction to working out, of course we spent time in the huge LuluLemon before heading off to work.
Maggie's favorite part of Ponce - the shopping. "Everywhere I love to shop was there. Whether its for new business clothes or activewear, I was really able to find everything that I want in my closet. Bonus - the Sephora was huge and had a great selection!"
Melanie's favorite part of Ponce - the view from the Beer Garden & Sky Line Park Atlanta. "The view from the Beer Garden was absolutely incredible. I wish we had the time to play some of the games, but it was so nice to be able to just watch the sunset with that amazing view. I didn't even know that there was mini golf, a slide, carnival games, and much more up there until I visited. If you haven't been you should definitely take a trip. Check out below for some of the amazing pictures we got of the roof!"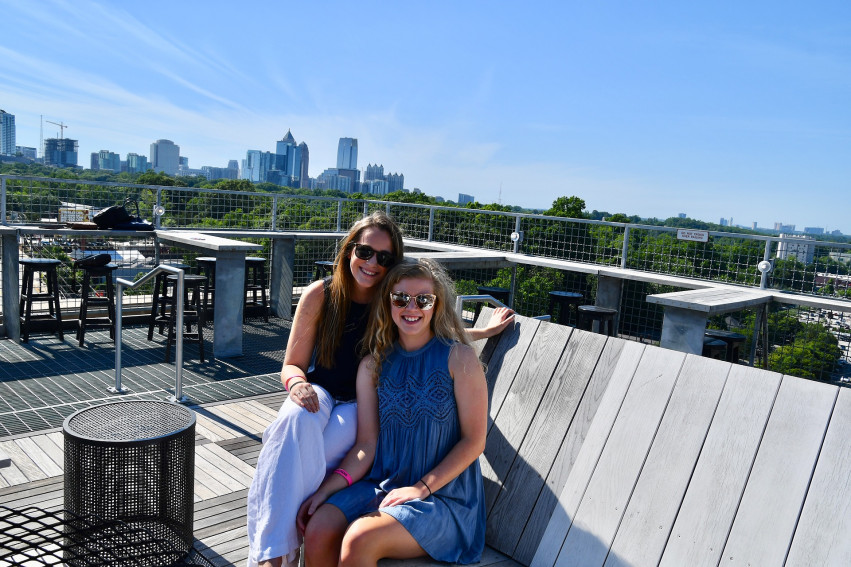 Do you know the history of Ponce City Market?
While Ponce is now a trendy shopping, bar, and restaurants location, it was once Sear's warehouse and regional office. Before that it was home to the Ponce de Leon Amusement Park from 1872 to the early 1920s. For over 50 years it was a Sears, Roebuck and Co. retail store, warehouse and regional office. While the retail store closed in 1979, it still operated as the regional office until 1987. In May of 1990, the city of Atlanta purchased the property for $12 million. It housed a city funded art gallery on the first floor, with the city's central police and fire department into the building. On our elevator ride up, we were told that some still remember the place after waking up from a wild night. The city sold it to Jamestown, a private equity group that tries to bring growth and prosperity into old outdated buildings for $27 million, in 2011. With roaring history, Ponce City Market offers a unique charm that is hard to find anywhere else.
Jamestown, Private Equity Group
Did you ever think that the group behind Ponce City market was also involved in the development of Timber? The group behind Ponce City Market, has chosen a unique business stance "specializing in investments in timberland and in opportunistic real estate developments and in core and core-plus properties." They invest in income producing real estate. They limit investments to properties that are either over $8 million or tracts of at least 5,000 acres. With their headquarters in Atlanta, they currently hold approximately $10.4 billion in assets under management. They employ over 140 employees in the USA and even have 40 employees in Cologne, Germany.