6 Great Places to Visit for Pumpkins, Corn Mazes, & More!
Pumpkins are the symbol of a fall celebration and are found on most door steps from early October through Halloween. A Jack-o-lantern is perfect for carving. Large in size, these type of pumpkins have strong walls, and a hollow center.
Pumpkins can be purchased at local grocery stores, farm stands and pumpkin patches. The ideal location to find a pumpkin however is a pumpkin patch. Pumpkin patches typically include other activities such as corn mazes, country store, hayrides and more.
Pumpkin patches are where you can pick your pumpkin right off the vine. Be sure it is completely orange. A medium size pumpkin is ideal for carving where as small pumpkins are best for cooking. Never carry the pumpkin by the stem or you risk it breaking off and your pumpkin smashing. It is suggested you "cure" the pumpkin by storing it in a cool, dark place. This will toughen up the rind and help prevent rot.
Use the map and list below to find your Favorite North Atlanta Pumpkin Patches:
15639 Birmingham Highway, Alpharetta, GA 770-777-5875
5555 Crow Road, Cumming, Ga 470-297-9567
2100 Sugar Pike Road, Woodstock, Ga 30188 678-899-3900
Uncle Shucks Pumpkin Farm and Corn Maze
4520 Highway 53 E, Dawsonville, GA 30534 1-888-OSHUCKS or (770) 772-6223
5 Burts Pumpkin Farm Road, Dawsonville, GA 800-600-2878
786 Arnold Mill Road, Woodstock, GA 770-926-0561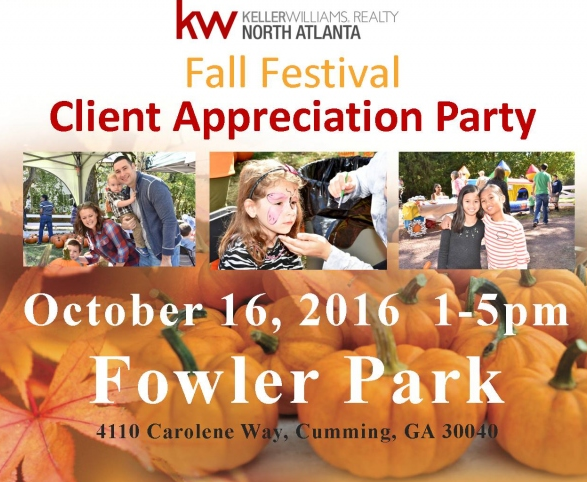 Looking for more fall fun? The Mary Ellen Vanaken Team of Keller Williams Realty North Atlanta will be hosting this fun filled event on Sunday, October 16, 2016 at Fowler Park in Cumming, Georgia.
All food and activities are complimentary. The Annual Fall Festival is always a fun time for the whole family. Feel free to bring your friends. Please email today your RSVP by clicking HERE.