2016 Egg Hunts of North Atlanta
Easter Egg Hunts began in America when immigrants from Germany brought the tradition to the U.S. in the 1700s. The egg hunt evolved from hard-boiled eggs to include chocolate, candy, and toys.
The Easter egg hunt is one of the most entertaining Easter activities the family can enjoy, however the game is especially for children. Without the colorful Easter eggs and the Easter bunnies, the special festive day is incomplete and less happening; similarly the Easter Egg Hunt is also a very much inevitable part of the Easter day.
Below is a list of North Atlanta Easter Egg Hunts for the communities of Alpharetta, Cumming, Johns Creek, Milton and Roswell, Georgia. Each link will take you to the details of each Hunt. Happy Egg Hunting and Happy Easter to all!
ALPHARETTA GEORGIA:
Midway Community Church Easter Egg Hunt
3365 Francis Road Alpharetta, Georgia 30004
Union Hill Church Easter Egg Hunt
4250 McGinnis Ferry Rd, Alpharetta, GA 30005
Alpharetta Childrens Easter Egg Hunt
13450 Cogburn Road, Alpharetta, GA
Alpharetta Methodist Church Easter Egg Hunt
69 N. Main Street • Alpharetta GA • 30009
North Point Mall Easter Egg Hunt
1000 North Point Circle, Alpharetta, GA 30022
Alpharetta Scottsdale Farm Easter Egg Hunt
15639 Birmingham Hwy. Alpharetta, GA 30004
Alpharetta's Avalon Easter Egg Hunt and Bunny Visits
2200 Avalon Blvd, Alpharetta GA 30009
CUMMING GEORGIA:
Eggstravaganza at Warbington Farms
5555 Crow Rd, Cumming, Georgia 30041
The Forsyth County Lions Club 3rd Annual Breakfast with the Easter Bunny
810 Nichols Road, Suwanee, GA
Taste of Forsyth and Easter Egg Hunt at Cumming Fair Grounds
235 Castleberry Road, Cumming GA 30040
JOHNS CREEK GEORGIA:
Johns Creek United Methodist Church Easter Egg Hunt
11180 Medlock Bridge Road | Johns Creek, Georgia 30097
Johns Creek Newtown Park Egg Hunt
3150 Old Alabama Rd Johns Creek, GA

Prince of Peach Lutheran Church Egg Hunt
10250 Haynes Bridge Rd. Johns Creek, GA 30022
MILTON GEORGIA:
Milton Community Easter Egg Hunt
12785 Birmingham Hwy, Milton GA 30004
ROSWELL GEORGIA:
Roswell Smith Plantation Easter Egg Hunt
935 Alpharetta St. Roswell, Georgia 30075
9000 Fouts Rd, Roswell, GA 30076
CLICK HERE - or on the map below for a Map of the North Atlanta Egg Hunts.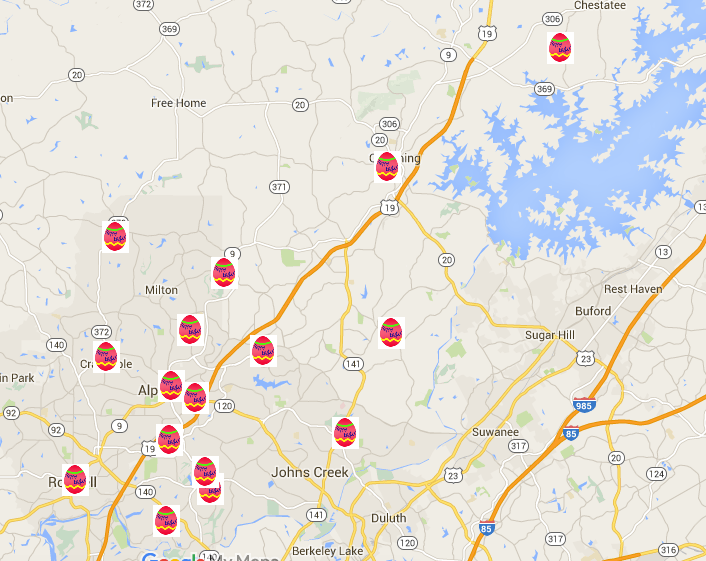 2016 Egg Hunts of North Atlanta presented by
The Mary Ellen Vanaken Team - Keller Williams Realty North Atlanta
5780 Windward Parkway, Suite 100, Alpharetta GA 30005