10 Fresh Fall Touches To Add To Your Home Decor
Surprise Guests With Even More Blankets
A little extra "cozy" never hurt anyone! Here, a simple rolled blanket makes for a charming addition to a guest bedroom.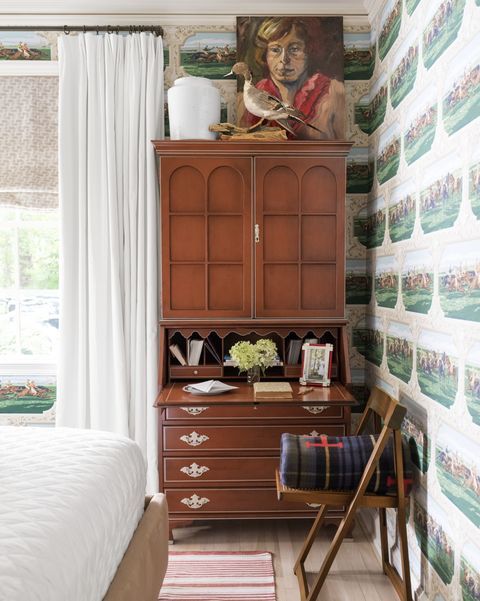 Place Pumpkins in Unexpected Places
Every area of your home deserves a chance to get in on the fall action! Even this less-trafficked kitchen corner feels comfy-cozy thanks to the addition of a few white pumpkins. You can use the same idea in bathrooms and bedrooms.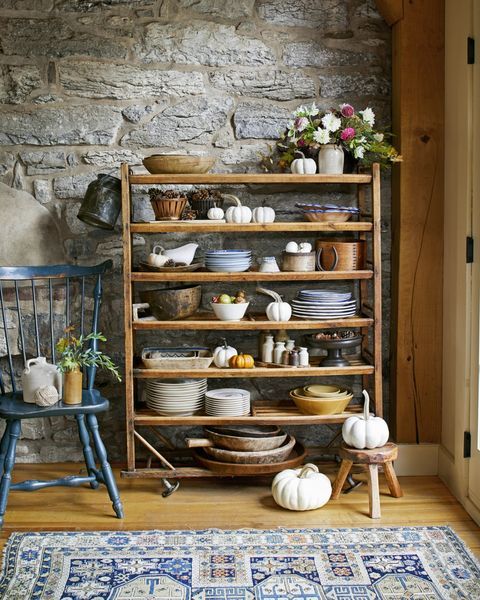 Play With Patterns
Pumpkins don't have to be orange, you know! Thanks to a bit of Mod Podge, this one features a fabulous blue-and-white pattern that's a clever and appropriate way to decorate your buffet for fall.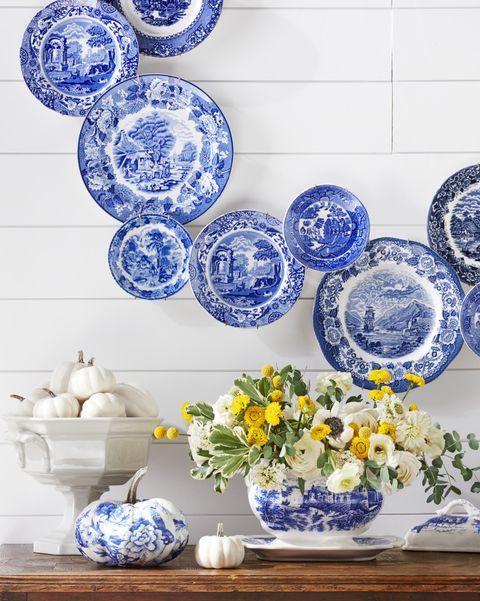 Add Foliage to Pumpkins
Use Mod Podge to découpage a white gourd with pressed leaves harvested from your own backyard.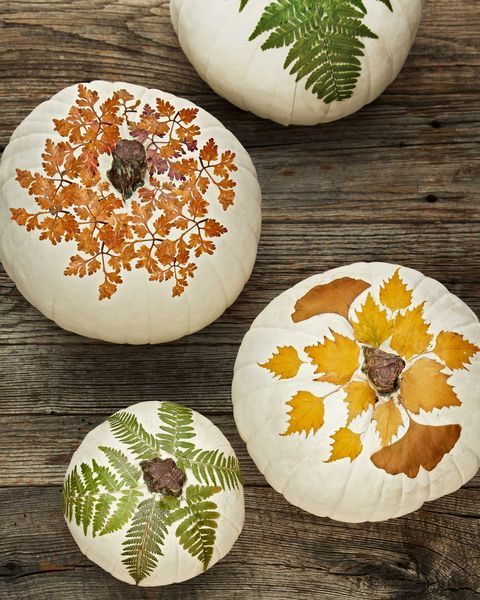 Display Gourds in Your Kitchen
There's nothing easier than filling a basket or bowl with some decorative gourds. Here, they turn an otherwise simplistic (but lovely!) kitchen into a festive, seasonal retreat. The same approach works with pine cones or apples.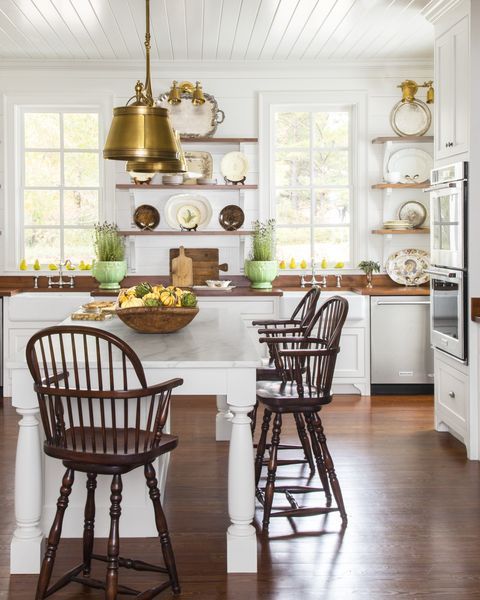 Arrange Fall Flowers
A vintage Champagne bucket makes for a lovely base for this stunning display. Use dahlias, ranunculus, and foraged clippings from your yard to create this arrangement that would look perfect on your mantel.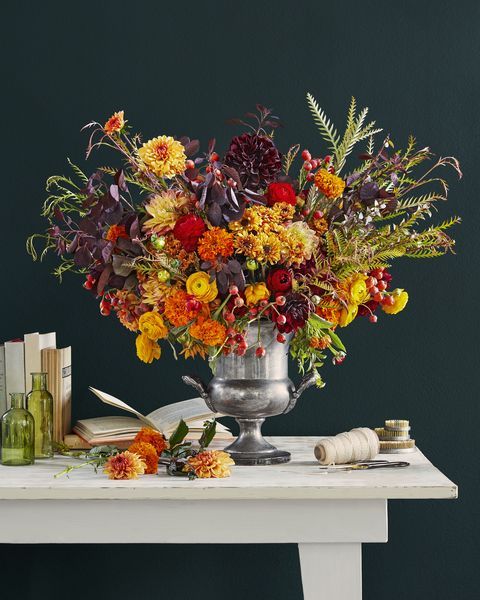 Add a Plaid Blanket
Instantly add warmth to your bedroom with a plaid blanket featuring red, orange, and golden hues.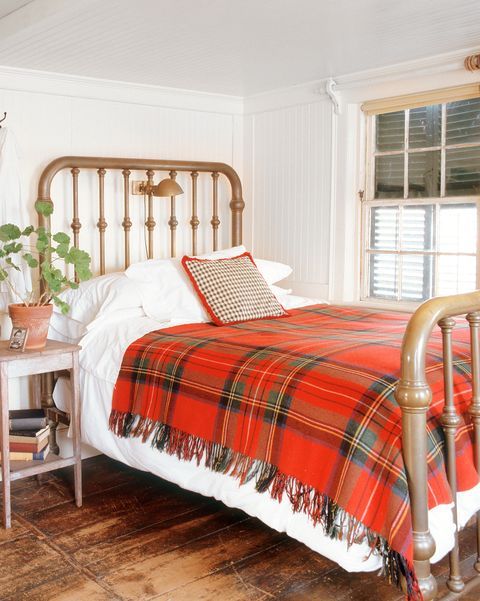 Text with Image Object
Dress up doors, windows, an empty nook, or bare wall with a festive fall wreath. Pieces featuring apples, cobs of corn, or autumnal flowers will breath some seasonal life into your space. We love this idea for inside and outside the home.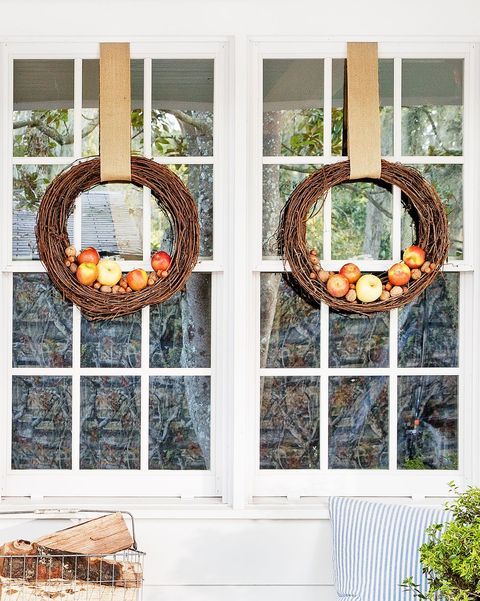 Feature Your Fall Foods and Finds
This rustic white kitchen packs autumnal appeal thanks to a bounty of freshly picked fall treats (apples, flowers, and squash) on display. Golden yellow painted chairs also give this neutral kitchen some homey warmth.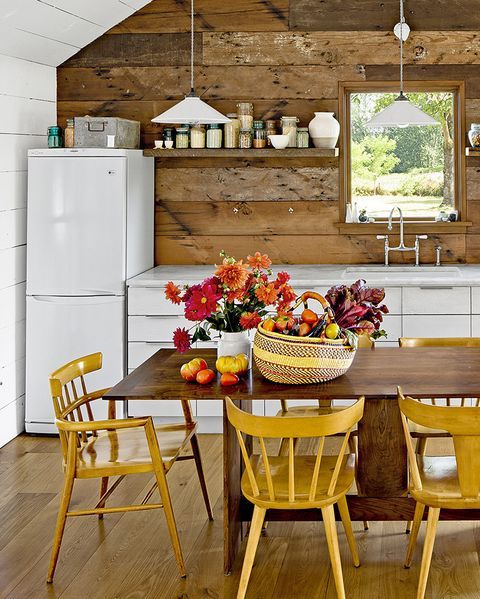 Go All Out Outside
Sometimes, more is more! This front porch in features an assortment of gourds and lanterns, cozy throw blankets draped over rockers, and a giant wreath (that can stay up through the holidays).
Articles and Images Via Country Living.